Introduction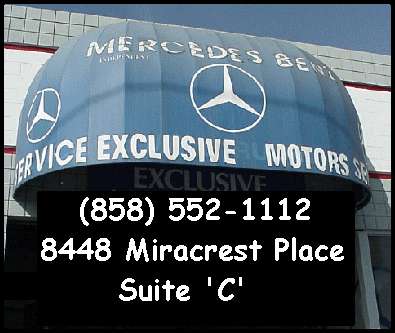 We've all looked for service shop that does quality work at a fair price. And does it on time! Look no further, for Exclusive Motors (EM) of San Diego does all of the above!

I bought my first MB from EM about 17 years ago. It was a '91 190E 2.3 with about 50K. Drove it for 2-1/2 years putting on about 30K miles. All service was, of course, done at EM. Next I graduated to a '93 E320 followed by '94 E320 coupe. Even though I did not purchase the cars from EM, all service was done there. Today, with my '94 S500 coupe (I love coupes!), all service is still done at EM. They are located just off Miramar Road on Miracrest Place, Suite 'C'. Very easy to get to because it's just off US-805 Freeway in San Diego. Take Miramar Rd exit, head East for two miles, then turn on Miracrest Pl.



Personnel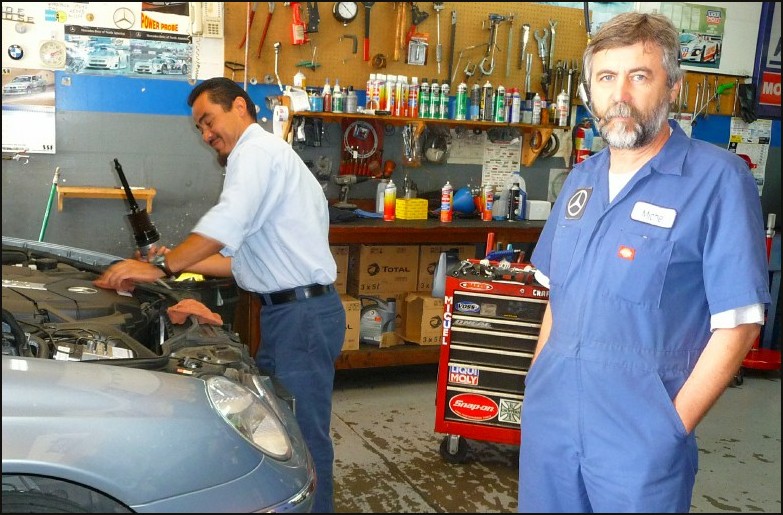 Last year, their chief technician died in a motorcycle accident so EM's owner, Michel Miro (right) has taken over the day-to-day duties of maintaining the fine service that is a hallmark of EM.

The chief tech is Miguel Ponce (left). He's a ASE Master Technician who has been certified and regularly updated his skills to keep abreast of the newer technology cars. And he's a nice person to boot!

The shop does excellent work and always strive to make the customer satisifed with their repairs.

Car Sales
Michel sells excellent quality used Mercedes from his new location. He always has well-cared-for Mercedes at very reasonable prices. Currently has a 2002 E430 that is in pristine condition. I drove the car and it handles nicely and has great acceleration with its 4.3L V8 engine.

If you interested in a Mercedes, be sure to give him a call and stop by to see his latest cars.

Facilities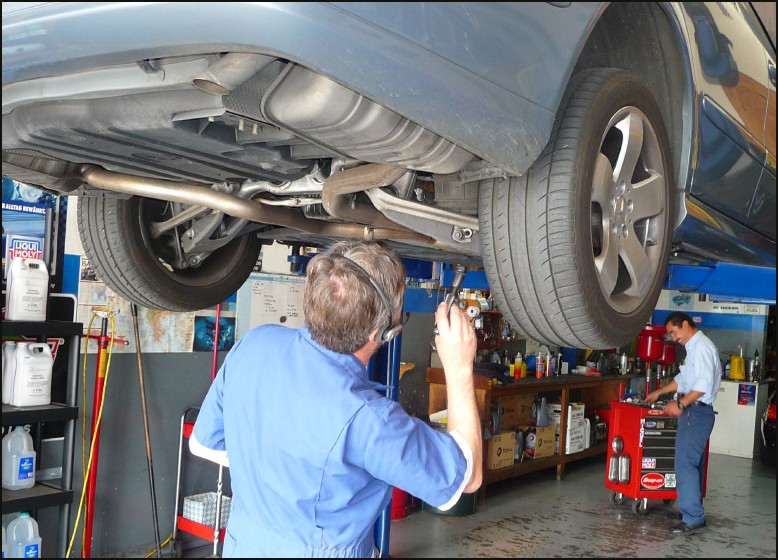 The shop has two main lifts which allows which allows both more customers to be accomodated. You do that by raising the lift and placing a car underneath!

Take notice of the floor. Although you are not quite able to 'eat' off it, it's pretty close. The shop is always kept clean and that's good for you as a customer since your shoes won't track dirt onto the car's rugs. When you bring a clean car in EM, it leaves that way too.

Miguel does all of the major work with Michel assisting if needed. Here we Michel inspecting the rear shocks to gather a realistic estimate for the repair workl.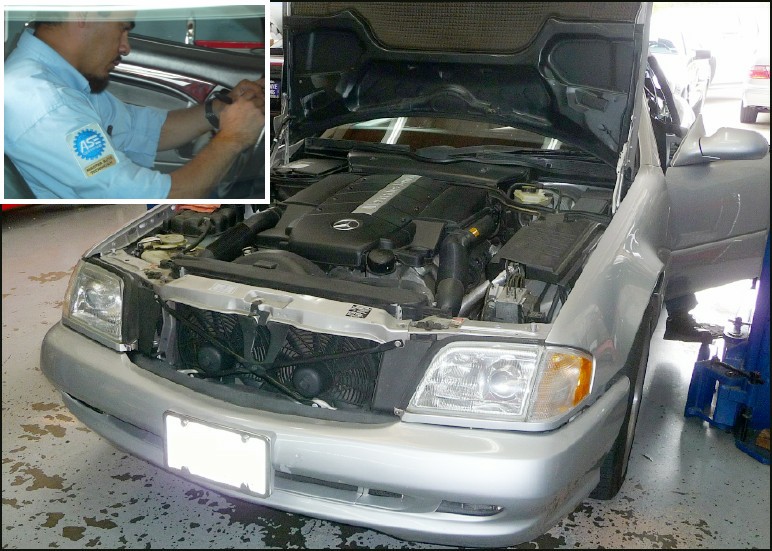 The day I shot these picture a friend had his '97 SL500 serviced with a "LOF" . . . this stands for "Lube, Oil and Filter". The picture shows Miguel finishing the LOF making out the service reminder sticker and resetting the FSS indicator.

Next time you want some good honest service work performed on your Mercedes, make an appointment and visit Exclusive Motors.