Buying new Wheels and Tires for your W140 . .
What to do??
So you want new wheels and tires for your W140?? It's something that you will ask yourself sometime after you have had stock wheels and tires. That thought did come to me but I put it off until I had to make a decision; should I buy some new wheels and tires or stay with what I have and just replace the tires.

The PRO says. . .why not?? The car is in great condition so new wheels and tires will further enhance it. The CON says . . the "cost"! It will cost between $1500 to $2000 depending on the wheels and tires chosen. Since the car is in the $15k - $19k arena, the cost is an appreciable percentage of the car's value.

Being conservative, my first choice was 17" wheels. The reasoning was based on reading that 18", 19" and 20" wheels give a "harder" ride but much improved handling. At my age, sports-car handling is not at all a realistic requirement. It has to give a smooth, comfortable ride. I know the shorter profile will give much better handling.

Wheels first . . .
The stock wheels for my '94 S500 are 235/60/16" taking the standard Mercedes 16" 5-hole wheel, size 7.5 x 16" w/ a 2.0"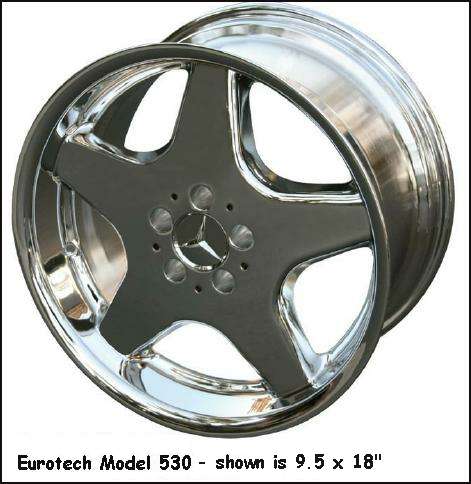 offset. For the rear wheel, another size wheel can be used; 8.0 x 16" w/ a 1.3" offset. This turned out to be important b/c the wheel house (Eurotech) recommended the wrong rear wheels!. More on this later.

I soon found that there are NOT a lot choices for 'stylish' 17" wheels but there were a lot of choices for 18" and larger wheels. So it looks like 18" it must be. With that decision out of the way, I needed to see where I could get a decent price on a chrome wheel. Also I would like it to be a local So Cal business so that yielded a wheel house called "Eurotech". The prices appeared reasonable so I drove to their local showroom/office in San Diego.

Since my C140 (C=coupe) is akin to a "tank", it needs a 'strong' wheel. At least, that's my reasoning. So any wheels with 'spokes' or thin rails is out b/c they wont complement the look of the car. Also wheels with spokes/rails at the outside end of the wheel portion is also out. The can be 'bruised' too easily. I found that E/T's Model 530 was my final choice since it "looks" like it could have come originally with the car as OEM. I don't think I was wrong and the look of the wheels and tires go nicely with the car. At least that's my story and I'm sticking to it!

Zero Speedometer Calibration . . .
Now that the wheel size is fixed, what size tires are required so as to have "zero" effect on the speedometer calibration?? There's a number of sites that can answer this question; one of the best is here. Up to four (4) different size tires can be compared so that you can visually make the 'best' choice. Also the required wheel width is shown for the tire chosen; a powerful feature. Another source for tire information is here. This one only can compare one (1) tire size and does not show the required wheel width for the chosen tire however it's easy to use.

Tires . . .
Now for tires! I happen to have used Dunlop and Pirelli tires on previous MB cars but have come to like Michelin tires b/c they are always the highest quality and have a long-life wear pattern. I had "Pilot" model tires on another MB (E320 coupe) and they were the BEST tires I've ever used. So I wanted the same Pilot's but in a performance tire. A costly choice!

Michelin's Pilot Sport (P/S) tire are their maximum performance tire. They are designed to extend the vehicle's capabilities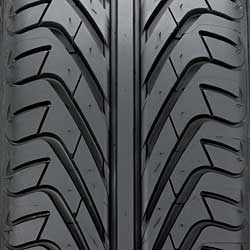 on wet roads while providing progressive handling, exceptional feedback and refined road handling on dry roads. The P/S molds Michelin's Advanced Technology tread compound into one unified design. While all P/S tires feature a continuous circumferential center rib flanked by directional tread patterns, tires in sizes of up to 265 millimeters of section width feature a V-shaped pattern. The picture shows the unique tread. The continuous center rib sharpens steering response and provides communicative road feel while the swept back lateral grooves efficiently evacuate water from under the contact patch to resist hydroplaning and enhance wet traction while reducing tire noise on dry roads.

At this point, I need to make something clear; the wheels and tires were recommended by Eurotech including the offset wheels sizes and tire sizes. The complete package was purchased by me through my long time tire-shop, Discount Tire. The local manager is a straight up person and I've done business with him for 20+ years! He installed the Eurotech recommended tire sizes and wheels. Understanding this is necessary to understand what follows.

The front tires are 245/45/18" and are mounted on the EuroTech Model 530, 8.5" x 18" wheel. No problem with them. The rear tires were 275/40/18" mounted on the their 9.5" x 18" wheel as shown in the above picture. The large width of this wheel coupled with the "smaller" width capability of the W140 rear wheel caused the rear wheels to rub . . . rub badly on the fender well during even small bumps or dips in the road.

My rear accumulators (nitrogen spheres) were original (13 years old) and should be replaced b/c, most likely, the internal diaphragm of each was torn. That's the normal failure mode of these devices. So I replaced them hoping that the car would come up a inch or so allowing the wheels to clear. It did come up a bit but still would rub.

Still thinking the rear wheels could not possibly be the source of the problem, my next step is to replace the rear tires. The "275" wide tires were replaced with 255/45/18" (still maintaining the correct speedometer reading) and rubbing was better. However, when the car hit a medium "swail" or dip, again the rear tires would rub but not as bad.

I looked closely at the Mercedes wheel sizes and it was clear that Eurotech had recommended and sold me the wrong size rear wheels. So they have to be replaced with the same size wheel as those in the front, namely, 8.5 x 18". EuroTech would NOT replace the two rear wheels even though it was their 'fault' b/c their incorrect recommendation. At this writing, they have forced the tire shop to eat the wheel cost.

Thinking that they were reasonable, I thought that they would see that this problem was due to their error and after seeing that, exchange the wheels. However, this is not the case. My advice; be careful in any dealings with them. If you don't know what wheels your car should have or can safely accept, do NOT rely on EuroTech to give good advice. Take the time to study your car's wheel specs and allowable variation before buying.

Another interesting fact is the size of the tire vs the wheel "width". For a "255" width tire, the recommended wheel width is in the "8" to "8.5" area. Mounting this tire on "9.5" wheel is not recommended b/c the wheel's width cause the tire to be overly flexed. Now with the correct wheel size and tires, the ride and car's handling is as expected. And the wheels/tires fit nicely inside the rear fender and do not rub.

Lug Bolts . . .
The 'last' problem was the wheel lugs. Mercedes requires a "ball-seat" lug w/ 14mm x 1.5 pitch threads. These can be had in various shank lengths. Eurotech only carries two (2) shank sizes; 1.5" and 0.9". Yes, you guessed it! The 1.5" shank is too long b/c it hits the emergency brake cables on the inside of the rear drum. The 0.9" shank is too short; it barely grabs three threads. VERY shakey! With only a few threads to sustain the car's weight, those must be replaced as soon as possible.

Purchased special size lugs; M14 x 1.5 x 1.3" (33mm) shank from Prestige Wheel Accessories in Fountain Valley. Call 714-540-2100 and order from Sharon. They have all forms of special wheel lugs including chrome and dacromet. Had them here the next day and on the car almost as fast. These lugs bolts go all the way into wheels and ensure that the car's weight is distributed properly across the 5 lugs/wheel.

Comments
Since the rear wheels were replaced with the correct size, 8.5 x 18" and the 255/45/18" tires mounted successfully, there's no more rubbing and car's ride is excellent with a tire pressure of 32lbs in each tire. With the new rear accumulators working perfectly, bumps are also smooth. Finally, the "looks" of the new wheels and tires are something short of spectacular IMO but the actions of Eurotech has dampened my enthusiasm for their products. Would not recommend using them in the furure.