-------- Yaesu and Extended SSB [ESSB] Audio ---------

Introduced back in the late 80's, the Yaesu FT-1000D was a sensation with DXers, Contesters and the general Ham public. Over the years it has proved to be very reliable and rugged radio, surviving many DX-expeditions and most anything else thrown at it.

I purchased mine in 1993 and it has been 'down' just one time, with ohmic contacts in the changeover relay and some 'blown' switching diodes on the Low Pass Filter Board.

About a year ago (1998), I got bit by the hifi audio bug (later renamed to "ESSB") thanks to people like W2ONV (alas a SK) and VE6CQ. What's funny about this, I said I'd never get interested in extended audio because it didn't make sense!

Since I had this great radio as a starting point, I thought why not use it? It should produce excellent sounding audio since it has very low distortion products and its SSB audio was good, however a bit narrow. With some new filters, a few audio part changes and carrier offset adjustments, I should be in business. I was right! What came out of this experiment was a radio with pristine audio plus a radio whose receive bandwidth was not any more than it was with the stock Yaesu filters at the 60dB point (InRad 715 and 716 filters)!

At the time this project was started (1998), Yaesu was NOT visible on the ESSB radar. Most ESSBers were using Kenwood radios which already had introduced DSP into their products. With that as a backdrop, I undertook making the FT1000 ESSB capable w/o DSP.

Using my EE design experience, I started to analyze the circuits using Spice. I could see, by inspection, that the circuit values caused the severe frequency rolloff which was confirmed by Spice. It quickly determined that most all of the audio (mic, preamp, speaker audio) and IF ckts were severely rolled off, intentionally so. It also showed what values were needed to make the circuits attain wb audio. The easy part, for me, was now done.

The next hurdle was the lack of suitable filters for the radio. I contaced George, W2VJN (former owner) at International Radio and convinced him that these new filters would be a saleable product. So using my design specs, InRad developed the required filters, namely the 2.9Khz @ 8.215Mhz (#716), 2.9Khz @ 455Khz (#715), 6Khz @ 8.215Mhz (#710) and a CMF 6Khz @ 455Khz.

I also wanted all filters to plug-in where possible, so a versatile filter mounting board was designed that allowed all of the newly developed filters to be used in the FT1000. Needless to say, the ckt changes plus the filters did the "job" as the picture shows. Taken by Rick, VE6CQ directly "off-the-air" using his wb Kenwood rcvr.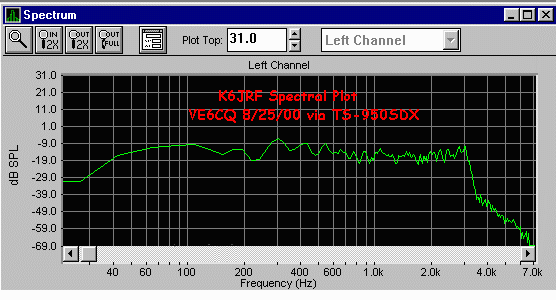 With these new "parts" now developed, other Yaesu radios such as the FT1000MP could be modified. Even the ckt design methodology in the special menus here, showed "how-to" modify the other Yaesu radios. This FT1000 was the key to all other Yaesu ESSB mods!

It appears that this information was lost. Others are taking credit for something which could not have been done without the "parts" arsenal and ckt analysis techniques developed here. So now you know what came first . . . the FT1000 truly was the chicken and the egg! Use the information here to make your FT1000 an ESSB performer.

After investigation into the new FT-2000, I found that it employs DSP so the Rx channel (and Tx) can be opened to 4Khz without additional filters. A nice feature indeed.

But other changes (Tx audio) are needed and those will be reported here on the FT-2000 ESSB pages. Click now to see the current progress.